Sharing Calendars in Horde Webmail
This tutorial explains how to setup shared calendars between email accounts hosted on the Silver Dolphin Solutions, LLC. server.
Sharing Local Calendars
Log into your webmail and select Horde as your webmail program. Then select Calendar as shown below.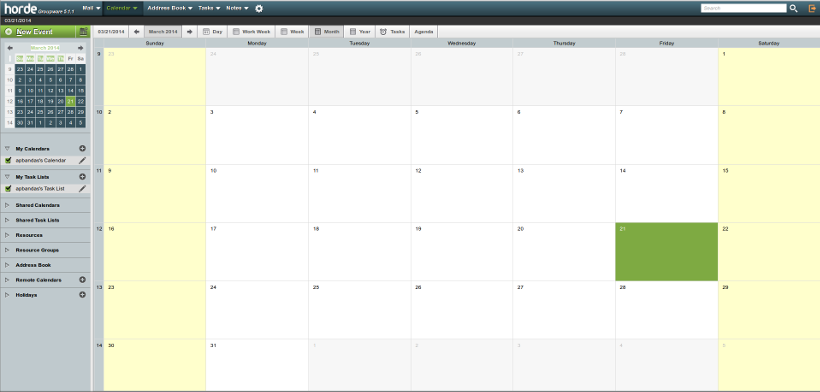 On the left hand side, you will see a + My Calendars section. By default, your calendar is the only calendar in the list. You may add more calendars if you wish by clicking the "+" icon, but for now we will show you how to share your default calendar. The procedures for naming and sharing calendar are the same in both cases.

To allow others to see your calendar, click on the pencil to the right of the calendar you are sharing: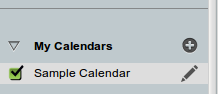 A popup will appear as show below allowing you to select which shared calendars to display. Click on the Sharing tab to setup the sharing on your calendar.

Do NOT select any of the check boxes for Share with the Public (everyone). If you do, you will be sharing your calendars with ALL of the companies hosting on our server. Instead, check the box Share with the users: and enter the email address(es) of all associates that you want to share your calendar with. You may allow these users to read your calendar, or read and edit the calendar as you wish. Refer to the example below:

If you wish additional control of how people access your calendar, you may click on the link found in the phrase "You can also set advanced sharing options." If you do this, then you can set individualized permissions on how associates can use your calendar. Again, do NOT give rights to All Authenticated Users as this will allow access to all users on the Silver Dolphin server. In the example below, a user will be added with "Read" privileges only:

Clicking the Add button, adds the user:
We will be focusing on local sharing in the first part of this tutorial.

Continue adding users you wish to give access to, then click the Save button to save your work
Your calendar is now available to be viewed by your associates. However, in order to see your calendar, your associate must select it for viewing. To do this, click on the button to the left of Shared Calendars and this will reveal the calendars your associates have given you permission to view. Click and select the check box to the left of each calendar you wish to view. In the example below, the user is viewing the second calendar only: